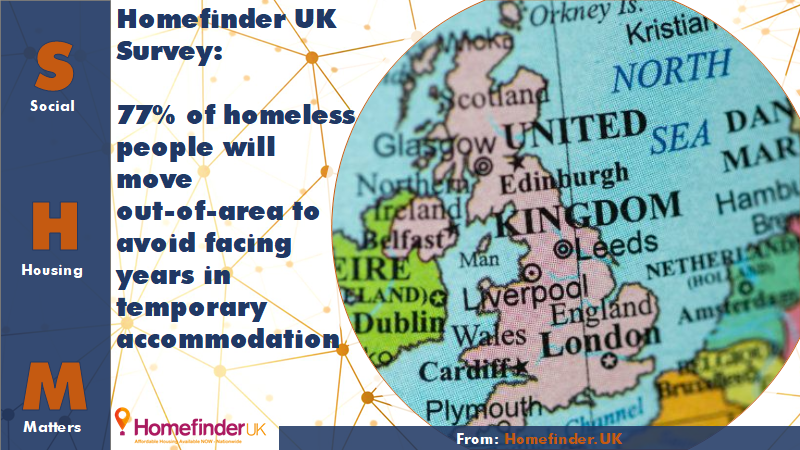 A brand new report published today undermines some of the negative assumptions about moving out-of-area and reveals that relocating long distance can be a valid housing alternative to years spent on a council waiting list, if done on a voluntary basis.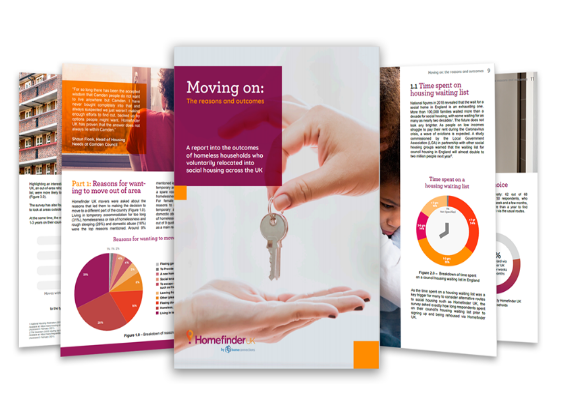 The survey of 690 applicants investigates the outcomes of homeless households who voluntarily relocated into social housing in different parts of the country via a national mobility scheme, Homefinder UK. It examines the relationship between time waited on a council's waiting list and willingness to move out-of-area. Contrary to long-held beliefs, the survey results show that those in need of social housing are willing to broaden their areas of choice if that option is presented to them within the first year of joining a housing list. And in fact, 77% of respondents got rehoused into permanent social housing within 12 weeks after opting to move out of area.
The top 3 positive changes quoted by respondents were improved mental health, right-sized homes and lower rents.
53% of the movers who responded to the survey have opted to move nationally, for example from London to South Shields, or from Bristol to Middlesbrough, while 47% moved between London boroughs (which can range from a few miles to up to 45 miles in distance).
The paper also highlights the imbalance between supply and demand of social housing but suggests that the links currently available between housing supply and housing need are underused. The only public national mobility schemes in operation in the UK, apart from Homefinder UK, focus on home swapping. However, home swapping schemes are limited to existing tenants which neglects homeless applicants and those in the private sector fleeing domestic abuse.
The number of households in temporary accommodation has been rising since December 2011 with the Coronavirus pandemic causing a sharp surge in demand for social housing. Recent government data shows that in June 2020, 98,300 households were in temporary accommodation with 64% accommodated by London local authorities.
Mark Meehan, Chair of Homefinder UK and Chief Housing Officer of Hammersmith & Fulham Council commented that:
"Through the responses analysed in this paper, one thing became apparent – the research shows there are many homeless households who are willing to move out of their local area, and I would urge local councils to seriously consider accessing national mobility schemes that work with these groups. This paper provides sector-wide evidence that for those who voluntarily move out-of-area for social housing, a positive change can follow. The responses suggest a strong positive correlation between mental health and housing stability. For most of the respondents – 74%, finding a new home led to improvements in mental health and general quality of life, even if this meant leaving their local area or moving long distance. 95% of respondents recognised at least one positive change to their lives after moving. It also shows that resettlement is possible, followed by overall happiness and satisfaction".
Homefinder UK works with over 50 local authorities and housing associations by connecting homeless households with available empty housing stock across the UK. Some of their member councils have successfully rehoused in excess of 100 homeless households and saved up to £200,000 per year on temporary accommodation.
Shaun Flook, Head of Housing Needs at London Borough of Camden said, "For so long there has been the accepted wisdom that Camden people do not want to live anywhere but Camden. I have never completely bought into that and always suspected we just weren't making enough efforts to find out, backed by options people might want. Homefinder UK has proven that the answer does not always lie within Camden."
Local authorities, in high demand areas such as London, are overwhelmed by the immense and ever-growing need for social housing combined with the severe shortage of affordable housing in the capital. The findings by Homefinder UK demonstrate that offering housing applicants an alternative to the long wait for social housing in high-demand areas can reduce and prevent homelessness whilst improving applicants' lives – and alleviate the intense strain on council's waiting lists.
The paper can be accessed and downloaded from here.